About Main Event Weddings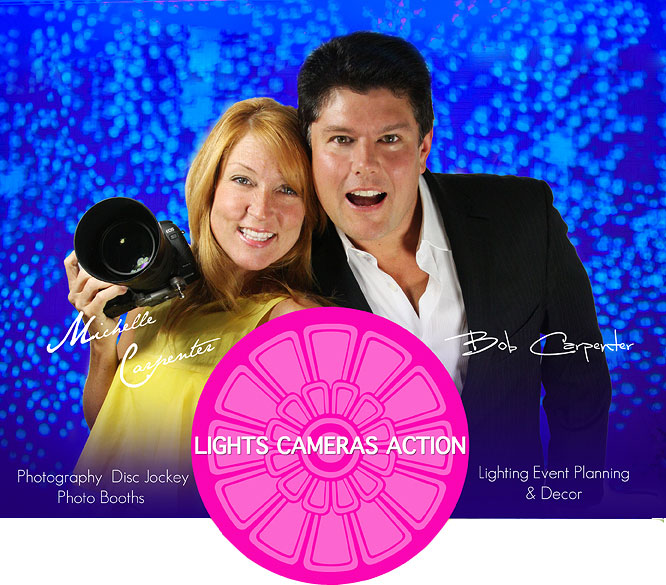 Follow us on Facebook
Bob and Michelle Carpenter, two of Rhode Islands most sought after wedding professoinals, Michelle an award winning and nationally recognized photographer and Bob a nationally acclamimed wedding DJ.
~BOB: My wife Michelle has a unique photographic style that has been published and featured in national and regional editorials such as La Bella Bride Magazine, Newport Weddings Magazine and Wedding Style New England, as well as many smaller publications. Her work is utilized in many wedding venues throughout Rhode Island such as Ocean Cliff, Blithewold Mansion, Aldrich Mansion, The Renaissance Hotel and Westin Hotel. She is recognized nationally within the photographic community and is available for worldwide travel. She is a member of WPPI and Professional Photographers of America PPA . She has become a desirable asset within the fashion community capturing many of New England's top models for both commercial and editioral spreads
~MICHELLE: My husband Bob's energetic personality, musical knowledge coupled with his ability to personalize every event has made him one of Rhode Islands most sought after wedding Disc Jockey's. He is very active not only on a regional basis but on a national level sharing many of his ideas with the nations top wedding Disc Jockey Professionals Bob was published in 2008 in the book "The Best Wedding Reception Ever" found in leading books stores across the country. He has been awarded "The Knot's" highest three star ranking for Disc Jockey entertainment from 2006 through 2009.